About The Key Guy
The The Key Guy Company
At The Key Guy, we strive to be "key" to your security. We are dedicated to the science of making keys and the art of defeating locks--with a smile. The owners founded The Key Guy as a fountain of Honesty and Aloha in Hawaii. When you call us, you will always speak to a locksmith familiar with Hawaii street names and every neighborhood on Oahu. And yes, we're frequent visitors to all the military bases. Your locksmith will advise you about your problems, and already know how to fix it when he arrives.
Our mobile workshops are something to be rivaled around the world--in fact, The Key Guy won 2nd in The Best Locksmith Van in the World contest recently (entry)! And do you like our website? This very website won 1st prize in ALOA's 2010 Best Locksmith Website in the World Contest! The contests were decided by popular vote of member locksmiths across the country.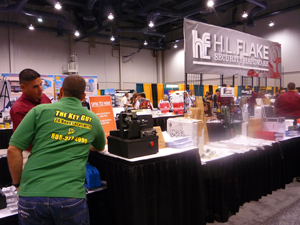 Trust us. Our staff continues their education in the best locksmith techniques with Associated Locksmith of America courses. We also attend the annual ALOA Convention and Security Expo, outfitting ourselves with the latest in security technology each year.
The Key Guy's operations hinge on customer loyalty and 100% customer satisfaction. As accredited members of the Better Business Bureau, we operate with high ethical standards. Our biggest source of jobs is word of mouth and repeat business.
About The Key Guy Logo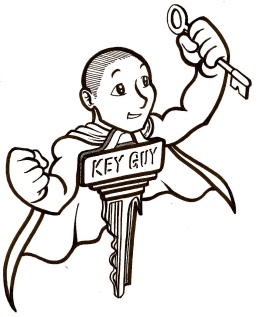 The Key Guy superhero logo had its beginnings around the same time the company was born. Guy happened to be at Hanauma Bay unlocking a car when he saw a crowd gathering around another car nearby. One woman was screaming, so he ran to see what was the matter. "My baby! My baby! He's too hot! He's suffocating!" wailed the woman. Her baby was inside the locked car.
People in the crowd fretted, "Call the fire department," "I just called 911," "We need a locksmith..."
That's when Guy stepped in and popped the car open in 20 seconds, releasing the sweaty baby into his mother's arms. Since then, we have rescued babies from locked cars free of charge, and twice responded faster than the fire department to the scene.
Superhero "Key Guy" logo designed by Jeremy Orbe-Smith.
Hawaii Kai Oahu-Wide Mobile Locksmith > About Us